'Be fruitful and multiply'
Yiddish newspaper reports that 6,150 units of housing could be built within Kiryas Joel's expanded borders
Photos
By Douglas Feiden
KIRYAS JOEL
— The raw demographic numbers are beyond staggering: Children under the age of five comprise 22 percent of the population of Kiryas Joel. Kids under 10 make up 41 percent of the census. The village's median age? A tender 12.9. And 56 percent of its residents are below the age of 15.
Roughly 1.2 marriage licenses are issued daily. Deliveries follow in short order. Births per day average 2.9. All told, 1,054 KJ infants entered the world in 2014. That means a village making up just 6.1 percent of the Orange County populace generated 21.7 percent of its births.
Demography is destiny. As is childbirth. So while one municipality, say, Newburgh, will wilt, another, like KJ, will wax. Indeed, the flashpoints between KJ and its neighbors track to disparities between its sky-high birthrate and the lower, more typical rates in the rest of the county.
How so? To shelter, clothe, feed, bathe, slake, nurture, school and teach Talmud to its ever-increasing brood, KJ must remain in perpetual growth mode.
And the communities it abuts say that impinges on their shared natural resources as the village inevitably expands, annexes, litigates, defends against litigation, builds homes, builds synagogues, buys land, scouts future land purchases, buys wellheads, buys water, buys water meters, constructs a pipeline, constructs a pumping station, seeks additional sewerage capacity, and on and on goes the list.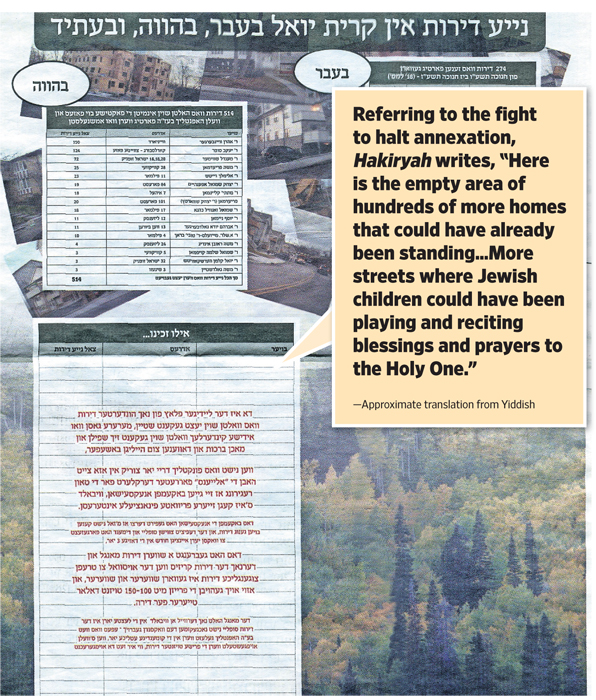 A collision looms
Now, that fraught relationship is about to be put to the ultimate test. While an unprecedented building boom has been underway in Kiryas Joel, its magnitude and potential future course have not yet been fully explored. That's about to change.
Hakiryah is a Yiddish-language, 60-page newspaper that circulates widely in the village, is distributed free of charge to KJ residents and is typically published monthly. At times, it reflects the view of KJ leadership, and at other times, it diverges from it. Its detailed report on the turbo-charged growth on tap for the village, which ran on April 17, led to this investigative piece.
The inventory represents the total combined development potential of lands both inside the original borders of KJ, encompassing 700 acres, or 1.1 square miles, and the newly annexed, if still-contested, lands known as "The Fingers," which appended 164 acres, or 0.26 square miles.
If the new housing stock comes on line, over an undetermined period of time, it could provide homes for tens of thousands of future Hasidic residents — and pave the way for a 2.5-fold skyrocketing of the village's population. Typically, KJ doubles every dozen years or so.
Multiplication tables
How monumental is this prospective growth? Consider that 36 percent of KJ households are composed of seven or more people, and its average family size is 5.7 people, according to U.S. Census data.
In theory, if a typical family occupied each of 6,150 units, the new stock could house some 35,000 residents. The tally would actually be smaller, as many inhabitants would be newly married couples.
Still, quick family growth would follow: "Be fruitful and multiply" is the first commandment of the Torah. Before long, the prospective new homes, if built, could house 1.5 times the existing population, which is north of 23,000.
Add up the numbers: After a decade or so, KJ would boast 58,000 people and counting.
"When is enough, enough?" asked Monroe Town Supervisor Harley E. Doles III. He said if KJ in fact goes ahead and develops 6,000-plus units, it would call into question the rationale for both the "KJ Overflow" and a new Town of North Monroe.
"This should suffice for the next 20 to 30 years!" Doles said. "In the meantime, until building is completed in KJ, expect to witness growth in Monroe at a scale none of us have ever seen. That's why I ask, 'When is enough, enough?"
Itemizing the inventory
With maps, photographs, graphics and articles spread out over three pages, Hakiryah, which is distributed free of charge to KJ residents, presented its readers with a unit-by-unit, project-by-project breakdown outlining how dramatically the village could be transformed over time.
"2017 will be written as the year that the supply of housing units in Kiryas Joel started to grow," the article begins. "And it will continue to grow, massively, into 6,150 units of housing."
A New York State-based Yiddish translator, who has no connection to KJ and asked not to be otherwise identified, was retained by The Photo News to translate the article. This newspaper has twice before hired the same Yiddish speaker to translate publications addressing development issues in KJ.
Hakiryah, which sometimes reflects the views of KJ leadership and at times deviates from it, means "the community" and derives from the word "Kiryas," which itself means "village." Among the highlights of its blockbuster report, which ran on April 17, are some giant numbers:
3,096. That's the maximum amount of housing units, in 30 different projects, that have been proposed on lands within the original political boundaries of KJ. Most but not all of these developments are in various site-approval stages.
514. Those are the units, in 16 separate projects, that are currently under construction inside the original borders. That brings to 3,610 the maximum potential housing that can be built in the old pre-annexation village.
"Hopefully, Be'Ezrat Hashem, with the help of God, they will be built and finished as soon as possible," the article says of the 514 units.
2,540. That's the maximum potential units, in 15 different projects, that can fit on the newly annexed 164 acres, which is being challenged in court and has not yet been rezoned.
Trees may fall in the forest
Next to a picture of a forest, Hakiryah references the battle to halt annexation, writing, "Here is the empty area of hundreds of more homes that could have already been standing…. More streets where Jewish children could have been playing and reciting blessings and prayers to the Holy One."
The article notes the imperative to "multiply and spread out," and says that, "with the help of God," the supply of new homes will keep the market stable, meet the demand for years to come — and "settle the enlarged borders of our holy town."
It's not going to happen overnight. But the need is real:
Gedalye Szegedin, who is both village administrator and village clerk, confirmed that 514 units are already under construction.
He said KJ has a "burning accumulated deficit" of 193 housing units, as the paper reports, which is calculated by the gap between newlyweds requiring new homes — there were 430 marriages in 2016 — and the Certificates of Occupancy issued to accommodate those needs.
But Szegedin also branded as "speculation" the Hakiryah projection of 6,150 units in toto.
Any large-scale housing construction would depend on such uncertain factors as available water-and-sewer capacity, real estate market conditions, adoption of new zoning laws and the resolution of outstanding lawsuits, he said.
In fact, he noted a legal setback on May 18 when an appeals court barred KJ, at least temporarily, from turning on the tap to connect the village via its new pipeline to a well it owns in Mountainville. The new supply was supposed to fuel development.
"I will say that this uncertainty in the KJ housing market is fueling the grassroots efforts to seek housing opportunities outside of KJ, and to promote out-of-KJ housing to KJ residents," Szegedin added. "So if all the lawsuits end, stability will be achieved."
'Tangible steps'
Meanwhile, plans are already in the review process for at least 2,000 units and up within KJ's original parameters.
And even as it sits on the drawing board, the size of the village's largest single project, Veyoel Moshe Gardens, appears to be mushrooming. The 70-acre development, off Nininger Road by the State Police Barracks in Monroe, was first pegged at 1,500 units.
But Orange County spokesman Justin Rodriguez said a Veyoel Moshe developer had met with several county department heads to "discuss a 1,750-unit development." As for Hakiryah, it projects 1,950 units on the site.
Nonetheless, Rodriguez added, "To our knowledge the talk of mega developments is just that: Talk."
The biggest controversy in any aggressive build-out would involve the annexed 164 acres, which is the subject of an appeal by the non-profit Preserve Hudson Valley and eight municipalities of a judge's ruling dismissing their opposition to the annexation.
John Allegro, who holds leadership roles in both Preserve and United Monroe, wasn't aware of "concrete plans" for development of those lands. He said both groups were more focused on working toward a possible agreement that could divide Monroe into two separate towns.
"While discussions over a possible agreement continue, we remain in litigation over the decision to approve the 164-acre annexation," he said. "If any tangible steps are taken toward high-density development while the annexation is in appeal, we will consider our options based on factual information."
Added Brendan Coyne, the Village of Cornwall-on-the-Hudson mayor who serves as spokesman for the eight municipalities, "I'd prefer to let the lawsuit play out in court. All this talk about what might happen is premature and can get people either excited or upset. I'd just as soon wait and let the court rule in the lawsuit — hopefully, in our favor."
Comments
MUST READ NEWS
VIDEOS
---